Frey Group
«the creation of positive interactions between human beings in a low-carbon city»

Antoine Frey – Chairman and Chief Executive Officer
What's your assessment of 2019?
2019 will be another excellent year for Frey, as once again all our indicators are demonstrating very strong growth.
Our operational indicators, whether the footfall from our assets, revenue from our tenants or the increase in invoiced net rents and our efforts, outperform all the market comparables and national indices.
Our financial indicators are not far behind, once again reporting a double-digit increase at all levels.
But if I had to choose just one "symbolic" figure for the past year, it would be our assets, which exceeded €1 billion in 2019.
This tenfold multiplication in our assets over ten years confirms our capacity to capitalise on the success of our retail expertise and develop user-friendly locations based on our three strategic areas of growth: transforming out-of-town areas, rolling out our model in Spain and Portugal, and the development via Citizers of mixed-use projects in major city centres.
What are the challenges for 2020?
Firstly, in the autumn, we will complete two major French projects that will become a key part of our assets: the Claye-Souilly and Strasbourg-Vendenheim Shopping Promenades. We are also planning to launch another major project in France, "Open", at Saint-Genis-Pouilly on the outskirts of Geneva.
Next, we will continue our international development, particularly in Spain, by opening a Shopping Promenade in Lleida, Catalonia, and remaining attentive to any acquisition opportunities that arise on the Iberian peninsula.
2020 will also be the year that Citizers ramps up its development. Our specialist business unit for major mixed-use urban projects had two successes in 2019, winning the bid for the Palais du Commerce in Rennes and Nouvel R in Paris (14th arrondissement) Citizers is continuing to grow, confirming that its offering matches the regeneration needs of towns within Greater Paris and major French metropolises.
More than ever, Frey's ambition is to become the leading user-friendly real estate investment company of the future.
Why choose carbon as Frey's CSR catalyst?
Ever since the Group was founded, Frey has been a pioneer in sustainable development, and for the last 15 years we have been continually developing ever more responsible projects.
Carbon still has a significant impact on our value chain, however, from design to operation of the locations we build and manage. We have therefore decided to make it our major priority, with a clearly stated ambition to become totally "zero-carbon" by 2030.
To establish this approach in a costed, detailed roadmap, and to report regularly on our progress, we have decided to publish the carbon footprint of our Group Net Share of Income every year. Frey is therefore the first French real estate investment company to quantify the financial impact of its carbon footprint on its profits and to publish this audited indicator in its accounts.
To sum up, I would say that Frey remains faithful to its pioneering identity and, beyond its financial performances, is proud to state the corporate purpose that guides its employees on a daily basis: the creation of positive interaction between human beings in a zero-carbon city.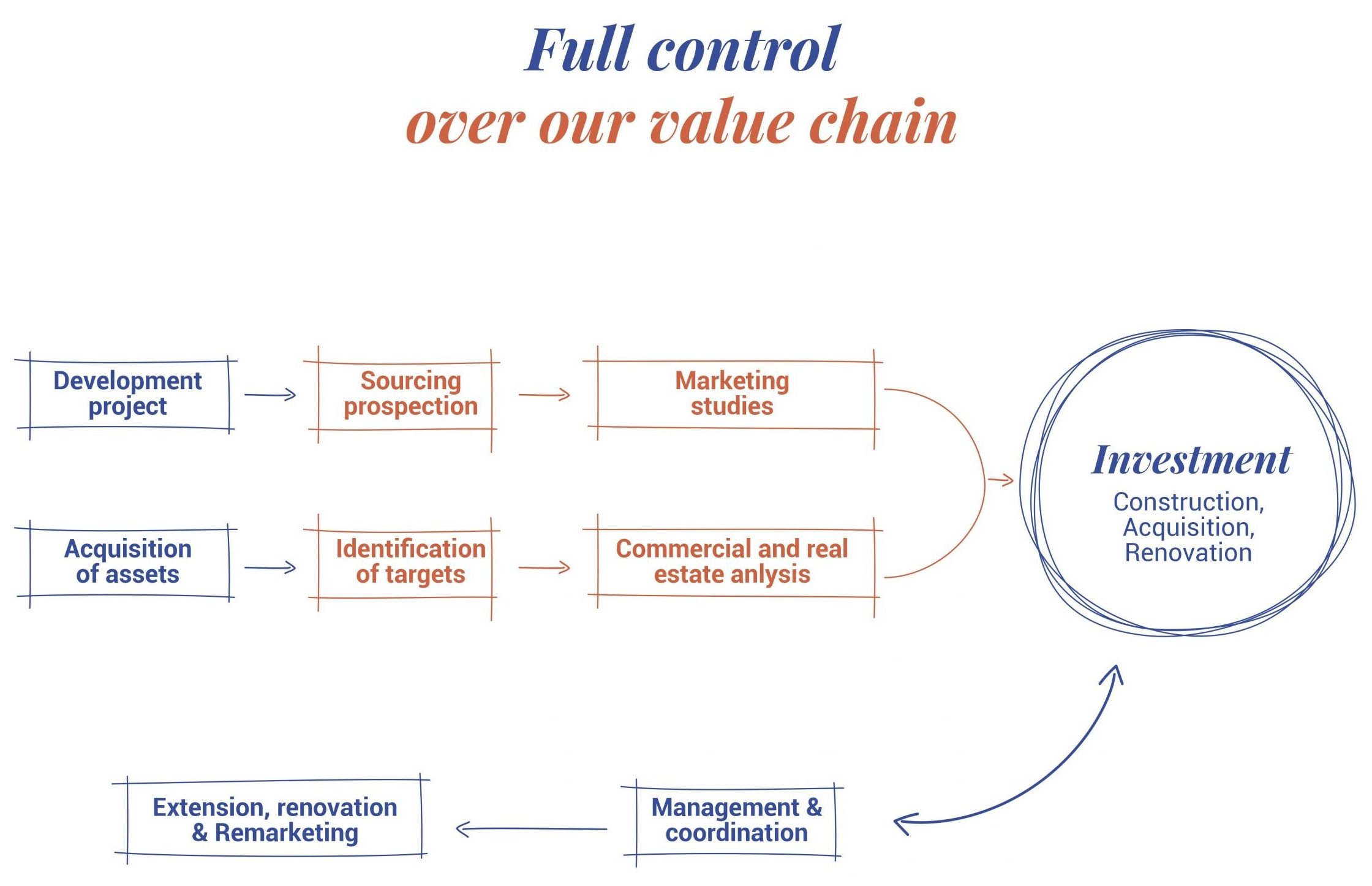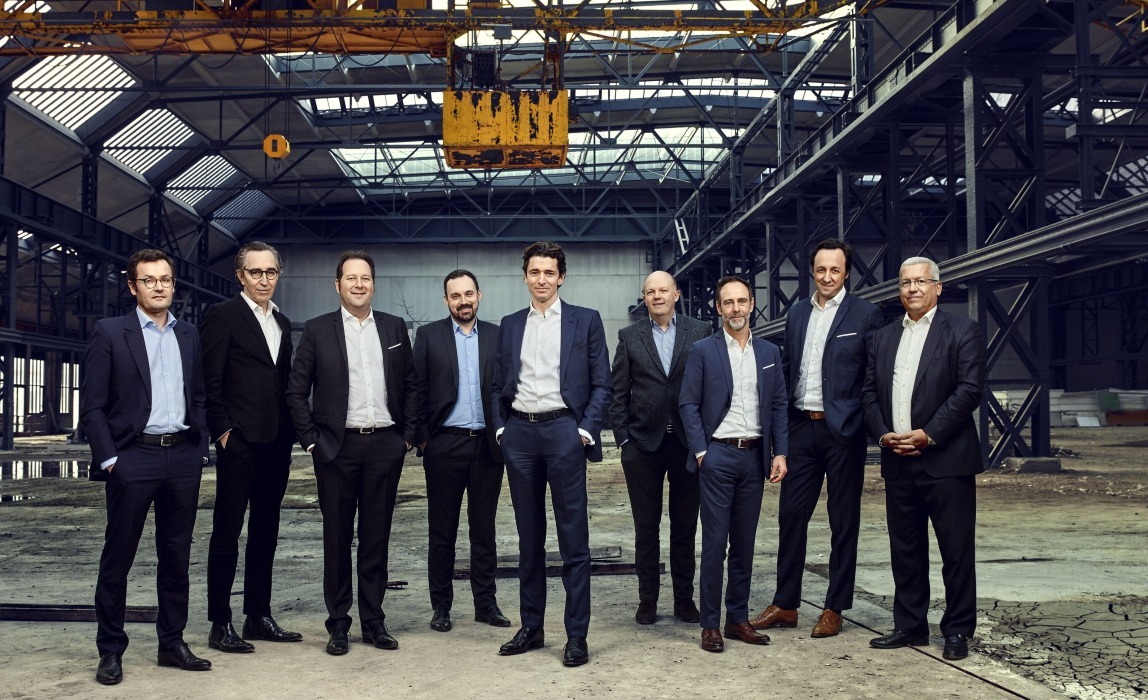 Management Committee
From left to right :
François-Xavier Anglade, Director of Asset Management and Acquisitions | Pascal Allançon, Chief Operating Officer Citizers | Pascal Barboni, Chief Development Officer | Sébastien Eymard, Deputy Chief Executive Officer Finance & Strategy | Antoine Frey, Chairman and Chief Executive Officer | François Vuillet-Petite, Chief Operating Officer | Roger Barbary, Chief Operating Officer Citizers | Mathieu Mollière, Director of Communication, Marketing and Innovation | Emmanuel La Fonta, CFO & Human Resources
The board of Directors
List of Directors
Yann Briand, Sogecap
Jean-Pierre Cédelle, Firmament Participations
Magali Chessé, Predica
Jean-Noël Dron, Firmament Participations
Muriel Faure, Independant
Antoine Frey, Firmament Participations
Aude Frey, Firmament Participations
Inès Frey, Firmament Participations
François Lemarchand, Independant
Nathalie Robin, Cardif Assurance Vie
List of non-voting members
David Ferreira, Crédit Agricole Assurances
Grégory Frapet, Primonial REIM
Jean-Christophe Littaye, CIC Investissement
Franck Mathe, Effi Invest II
Marc Van Begin, AG Real Estate
The Board of Directors has set up three specialized committees operating under its responsibility
Investment Committee
Nathalie Robin, Chairwoman
Yann Briand
Jean-Pierre Cédelle
David Ferreira
Antoine Frey
Marc Van Begin
Audit Committee
Muriel Faure, Chairwoman
Jean-Pierre Cédelle
Magali Chessé
François Lemarchand
Nathalie Robin
Appointments and Remuneration Committee
Muriel Faure, Chairwoman
Yann Briand
Magali Chessé
Jean-Noël Dron
Marc Van Begin
Key figures
(as of 12/31/2019)
Projects
(including RE development)
Key dates
Since its creation, Frey has established itself as the most innovative player in its sector. Pioneer of ecological retail parks and the inventor of a new generation of outdoor shopping centers, Frey now enters the heart of cities. To create new Feel Good multi-purpose neighborhoods.
2024
The "Open" shopping center will open in Saint-Genis-Pouilly near Geneva: a prime location in one of the most high-quality catchment areas in France.
2023
Frey will inaugurate 2 new iconic locations:
"Ode to the sea" in Montpellier, the 1st major urban project of the group, mixing the uses within a full-fledged new district.
Shopping Promenade® Lleida, in Spain: an exceptional commercial project that will offer a shopping and leisure offer on 56,000 sqm with a mix of leading local and international brands.
2020
Following the success of the first Shopping Promenade® opuses (Amiens and Arles), Frey confirms the success of its concept of open-air shopping center with 2 new openings planned.
Shopping Promenade® Claye-Souilly, in Île-de-France (September)
Shopping Promenade® Coeur Alsace, near Strasbourg (October)
2019
Frey wins the competition of the Palais de Commerce in Rennes. Developed by Citizers, its entity dedicated to urban mixed programs, this downtown project will offer in 2025 shops, offices, a hotel and many innovative services.
2018-2019
Frey confirms its strategy for international expansion with the acquisition of 2 open-air shopping centers in the Iberian Peninsula.
"Parc Vallès", 42,000 sqm, near Barcelona (Spain)
"Algarve Shopping", 60,000 sqm, in Albufeira (Portugal)
2017
Creation of the Shopping Promenade® concept: Frey inaugurates in Amiens the new generation of open-air shopping center, designed to offer, in a real living space, an "enhanced experience" to its users.
2014
Frey wins 2 major French urban redevelopment competitions in Strasbourg-Vendenheim and Montpellier-Pérols.
2013
Frey completes the 1st regeneration of a French commercial zone in Troyes – Saint-Parres-aux-Tertres.
2010
Opening of the 1st French Certified Commercial Park HQE Commerce® (High Environmental Quality Retail) in Soissons.
2008
Initial public offering on Euronext Paris, and adoption of the French legal status SIIC (as a listed real estate investment company).

2007-2008
Creation of the ecological retail parks concept Greencenter® and openning of the 1st opus in Marne-la-Vallée (France): Clos du Chêne.
Our news
11/12/2020
FREY signs a €70 million solidarity-based revolving credit line with Crédit Agricole Group and supports the CUISINE MODE D'EMPLOI(S) organisation
Company life, Finance & results
10/13/2020
FREY acquires two new forests and accelerates its zero carbon strategy
CSR & sustainable development